At Davos forum, Secretary-General Rebeca Grynspan calls for "true investments" to help a world in crisis keep the promise of the 2030 Agenda for Sustainable Development.
The UN Sustainable Development Goals (SDGs) can get back on track with more funding and targeted large-scale green investment in developing countries, also known as the global South.
"True investments at scale are the only way to really get back in the race," said UNCTAD Secretary-General Rebeca Grynspan.
Ms. Grynspan spoke at an event entitled "Promoting investment for Sustainable Development Goals: Repurposing capital", held on 17 January on the margins of the World Economic Forum's 2023 annual meeting in Davos, Switzerland.
She was part of a high-level panel that included José Ramos-Horta, Nobel Peace Prize laureate and president of Timor-Leste; Rania Al-Mashat, Egypt's minister of international cooperation; and Olivier Becht, France's minister for foreign trade, economic attractiveness and French nationals abroad.
Their conversations centred around incentivizing investment in climate-resilient and sustainable development projects and scaling up existing partnerships for public-private engagement to accelerate progress under the 2030 Agenda.
The panel discussion was moderated by James Zhan, who leads UNCTAD's investment and enterprise development division.
Reversing negative trends amid cascading crises
Secretary-General Grynspan urged the global investment community to help rescue the SDGs by reversing current investment trends.
She likened the current situation to a marathon runner trapped in a race, with the finish line (of sustainable development) looking increasingly out of reach.
"A pandemic. A cost-of-living crisis. A war in Ukraine. A new geopolitical trade order. Basically, everything that could have gone wrong has gone wrong," Ms. Grynspan noted.
According to a recent report by UNCTAD, the multitude of crises on the global stage inevitably affected global foreign direct investment (FDI) in 2022.
The report shows that new investment project numbers, including greenfield announcements, international project finance deals and cross-border mergers and acquisitions all shifted in reverse after the first quarter of 2022, with further declines expected in 2023.
Overall, international investment in climate change mitigation and adaptation shrank by more than 9% in value and 6% in project numbers.
International project finance numbers in renewables – the bulk of climate change mitigation investment in recent years – dropped by 5% and their value fell by almost 40%.
More investment should flow to developing countries
To better implement the SDGs, more money needs to flow more from developed to developing countries, Secretary-General Grynspan emphasized.
Developing countries face a $4 trillion annual SDG investment gap, according to UNCTAD estimates. But with rising interest rates in advanced economies, money left developing countries at record speed in 2022.
That loss could mount to a staggering over $500 billion in foregone income, cutting foreign reserves and global investment outflows – even by the most conservative estimates.
"To re-channel this flow, many things need to happen, both at the macro level, through structural reform in the international financial system," Ms. Grynspan said, "but also at the micro level, by helping countries plan, propose and execute shovel-ready projects related to sustainable development."
Multilateral development banks can play a key role
Secretary-General Grynspan called on multilateral development banks (MDBs) to invest at scale, leveraging resources in markets and projects.
"MDBs should lead a new round of capitalization and lend more from what they already have," she said. "The potential for MDBs to recycle and use, for example, special drawing rights is huge."
She said the international community could create legal mechanisms to do that, noting that such policies could increase MDBs' lending capacity by up to $3 trillion between now and 2030.
Rallying private sector funding
Ms. Grynspan said the world "must spare no efforts" in unlocking from the private sector the trillions needed to get to the SDGs' finish line.
She highlighted an opportunity to catalyse environmental, social and governance (ESG) investments. ESG investment is still a largely unfulfilled promise, she said, as most of it flows among wealthier nations and remains in the world's largest public companies.
To save the ESG mission, Ms. Grynspan said more efforts should be directed to fighting ESG greenwashing, as well as leveraging ESG and sustainability-themed trends to create new financial products, which can channel investment from developed to developing countries, and from the private sector to development projects.
UNCTAD is supporting such efforts through its global sustainable finance observatory, which seeks to promote credibility, transparency and consistency in sustainable finance markets, address the challenges of fragmentation in standards, proliferation in benchmarking, complexity in disclosure and sustainability greenwashing concerns.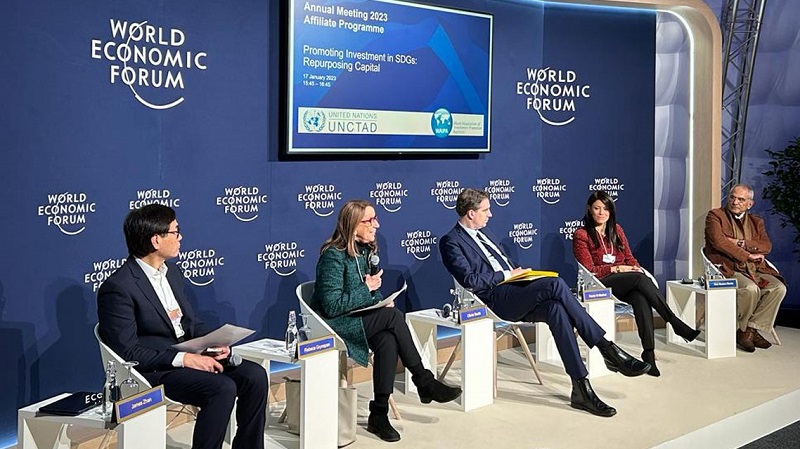 UNCTAD Secretary-General Rebeca Grynspan (second left) speaks during a panel discussion held on 17 January at the World Economic Forum's 2023 annual meeting.
Source : UNCTAD